This is an old favourite of ours and one we ate all the time pre-children! It was fast to make coming in from work and yielded a speedy tasty bite (in front of an episode of the Sopranos, glass of wine in hand – how times have changed!) Be sure to marinate the chicken first though, so that you are ready to go.
The following feeds two generously:-
2-3 chicken breasts, sliced
2 tablespoons paprika
1-2 lemons juiced (depending on the yield, usually  one and half – enough for around 5 tablespoons)
2 tablespoons chopped fresh tarragon
2 cloves of garlic, minced
3 tablespoons creme fraiche
100g sundried tomatoes in oil, drained and chopped
salt and pepper
some reserved pasta water
200g pasta (tagliatelle or pappardelle are nice here; any will do!)
Mix the lemon juice, garlic paprika and tarragon in a (non metallic) bowl, then add in the chicken and some seasoning and mix well to coat. Cover and leave to marinate in the fridge for at least 1 hour (this can be done up to the day before.
When ready to cook, put your pasta on.  You will need to reserve some of the cooking water, I usually scoop out 200 mls towards the end of cooking (just shy of a cup) but rarely use it all. Don't forget to do this before the pasta is drained! (this has happened)
Heat a spoon of oil in a large frying pan and add the chicken, reserving the marinade for later. Fry this off sealing it well. Because the meat is quite finely sliced, it won't take long to cook through.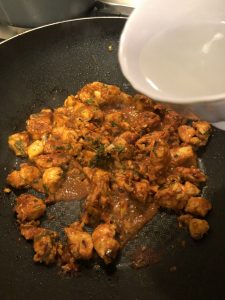 Now add the reserved marinade, plus a bit of the pasta water and stir to make a bit of a sauce, enough that will coat the pasta.
Follow by adding the tomatoes and creme fraiche and allow this to heat through, stirring gently to incorporate.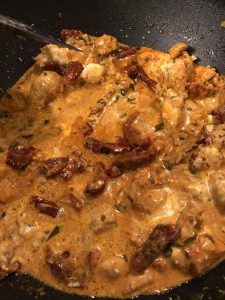 Now add the cooked drained pasta and mix gently to coat in the sauce and serve.