1 finely diced onion
2 ribs of diced celery (optional)
1 diced carrot (optional)
2 cloves of garlic
400g arborio rice
1 small glass of wine (about 120ml)
1.5 litres stock (My favourite is Marigold Bouillion)
2 tablespoons butter
oil
freshly grated parmesan, to taste
salt and pepper
This is a great base recipe and can be adapted to lots of different flavours. The carrot and celery is optional, but does up the vegetable quotient. I have added roasted veg, a blob of pesto, pancetta, frozen peas and sweetcorn, leftover roast chicken, prawns or even a poached egg. The combinations are endless. It's also lovely just as is.
Firstly, boil your kettle. You will make the stock (either homemade or with a cube or boullion) and leave it simmering in a pot on the hob, beside your risotto pan.
Melt the butter and a teaspoon of oil in a large wide bottomed pan. Add the onion and garlic and cook over a medium low heat until gently softened.
Now turn the heat up a little and stir in the rice, letting it cook for a minute.
Now add the wine and cook for one to two minutes – the alcohol will cook off.  Next, turn the heat down a little and add the stock, ladle by ladle slowly stirring until each ladle is absorbed into the rice. You'll want to let the rice gently break down and soften. This will take about 20-25 minutes.
The risotto will be ready when it is al dente and the stock has been absorbed – Note you may not need all the stock, this is about knowing by eye when you have used enough.
Now add the second spoon of butter and stir into the risotto. Serve with lots of grated parmesan.
Mushroom and vegetable risotto, with rocket
Leftover chicken and chorizo risotto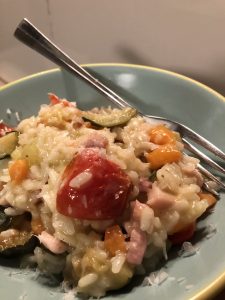 Roast mixed veg and pancetta
Simple pea and sweetcorn, with optional roast mushrooms!
Finely diced veg and pancetta – the ultimate fave in our house