This is one of our family favourites and comes from Economy Gastronomy by Allegra McEvedy and Paul Merrett, as is evidenced from my well spattered and well thumbed copy, pictured above! This is a little gem of a book. There's a section of the book devoted to recipes like this one; you devote a little bit of prep, let it cook over a long slow couple of hours, then hey presto you have the most delectable building blocks for a few more meals. It's just perfect for winter days.
In the original recipe, tins of beef consommé are used, but I have also used extra beef stock cubes instead with equal success. I have made it using half the quantities which I find goes quite far in terms of feeding us, but if you are going to the trouble, I figure you may as well make it as listed and freeze some for another day when you are short on time.
10 shallots, peeled, left whole
350g lardons of bacon
15g thyme, washed, but left whole
5 cloves of garlic, minced
olive oil
1 bottle of red wine
2.5kg diced beef (not too small)
1 litre beef stock (made with stock cubes)
2 tins of beef consommé (about 800mls total)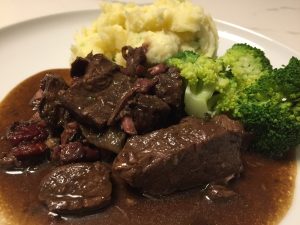 Preheat your oven to 170C (fan 150C) and put a bit roasting tin to preheat on the hob on a medium heat. Cook the shallots garlic thyme and lardons gently in a few spoons of olive oil until the shallots are soft and the bacon is browning. Now pour in the wine, stirring all the sediment from the bottom of the tray and bring to  simmer. Let this reduce for 10 minutes or so. Gently lay the meat on top (there's no need to brown it – yay! just season well with salt and pepper) Now pour over the hot stock and the consommé, if using, making sure that the meat is covered. Bring to a simmer and cover with foil, tightly, before putting in the oven for 2.5 to 3 hours. Check after 90 minutes or so to see if the meat it at the stage where it is giving way. If so, then remove the foil for the last half an hour of cooking so that the sauce reduces a little.
This is just lovely served with mash and greens, as the authors suggest. If you do want to freeze it, spread it out thinly on a baking tray to allow it cool quickly before freezing.
Some of this leftover beef is very easy to transform into a tasty pasta dish, I sometimes shake it up with sliced peppers too. Don't leave the salsa out, this really makes the dish and it is ready in two minutes!
400g of the beef, above
700ml sauce, above
300ml sliced mushrooms
250g dried pasta (tagliatelle, or any wide pasta is good, but any in the cupboard will work!)
salt and pepper
olive oil
butter
parmesan, grated
400g tomatoes, chopped
packet basil leaves, chopped
1 tblsp flatleaf parsley, chopped
1.5 tsp red wine vinegar
Put the beef, sauce and mushrooms into a wide pan and cook over a high heat on the hob for 30 minutes, stirring often and mashing the meat up with the back of your wooden spoon, letting nearly all the liquid disappear. While this is happening, get the pasta cooking and mix the tomatoes, herbs and vinegar together in a bowl and set aside for garnish.
Fold the drained pasta into the meat with a spoon of butter and the parmesan. Spoon the salsa on top and serve with more parmesan on the side. NOM!
Now, if you have not been persuaded to eat all of the above already, you can use the rest of the meat to make a third meal – Pasties! The original recipe calls for swede, carrots, allspice and peas, but I added a middle-eastern twist to mine for a change, but feel free to to add whatever is in your fridge.
300g of the meat reserved from the original recipe
40g butter
200g butternut squash, diced into 1cm
2 small carrots, diced small
1 red pepper, diced small
3/4 tsp sumac
3/4 tsp ground cumin
mint and coriander, about a tblsp each, chopped
500g shortcrust pastry
1 egg, beaten, to glaze
Preheat the oven to 200c or fan 180c. Take your pastry out of the fridge. Shred the leftover beef. Melt the butter in a large pan and gently sauté the vegetables with the spices, covering them with a lid, but stirring regularly. Add the cold meat and herbs, remove from the heat, taste and season if needed and allow to cool, chilling in the fridge while you can – this will make it easier to wrap in the pastry later.
Roll out the pastry on a lightly floured board, to prevent it sticking. cut out 4 x 20 cm circles and brush the edges with egg mix. Divide the meat mix in four and join the pastry together folding it gently in a half moon shape, crimping the edges together. Brush the pasties with egg and place on a baking tray, I find it handy to use a little bit of baking paper underneath to prevent it sticking. Bake for 30 minutes until piping hot and golden.