This is a super quick starter to make – it's on the table in a matter of ten minutes and is super tasty. We had it on Friday with a cold glass of white – very welcome prelude to a tasty steak dish which I will post about later! There's nothing like low effort high reward food at the end of the week and once you've a few bits in the fridge it all comes together very quickly. I used a small packet of goat cheese from M&S – the rind holds it together when it's baking in the oven, it easily cut into three generous slices.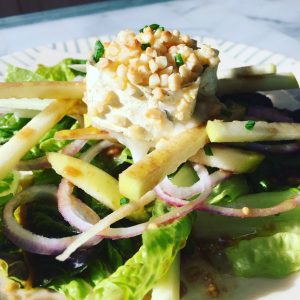 Ingredients (serves 2):
Goats cheese with rind, a small log sliced into 1 inch slices
2-3 tblsp of chopped almonds
1 egg, beaten
1/2 red onion, sliced into very fine rings
1/2 apple, either green or golden delicious, sliced into matchsticks
couple handful of lettuce leaves of your choice (I used red gem)
Dressing:
2 tblsp olive oil
1 tblsp balsamic vinegar
1/2 tsp dijon mustard
2 tsp maple syrup
salt, pepper and snipped chives to serve
Set up your small baking tray, lined with a little foil or parchment and preheat oven to 170C. Whisk the egg in a small bowl. Place the chopped almonds on a small saucer and working from one side to the other dip each cheese slice firstly in the egg, then the nuts gently pressing them in to stick, then gently on the tray. Bake in the oven for 7 minutes approximately. Watch them closely. They will go from sturdy to melted in a nanosecond! Prepare the salad. Whisk the dressing ingredients together in a small bowl. (You can do this before the cheese goes in the oven if you like) Plate up the (washed!) leaves, onion and apple sticks. Drizzle the dressing over. Place the baked cheese on top and sprinkle the snipped chives to serve. Arrange to eat in the sunshine if you can!