We have been feasting on yummy bacon jam this week. On our burgers, on a fried egg, on an open goat cheese sandwich, on a spoon (hmm) It's quite the friend to lots of things. The following recipe is dead easy and requires just a gentle eye and slow cooking and bubbling. The reward is great and it measures a decent jar, which keeps for about a week in the fridge, theoretically.  I've included a recipe for homemade hamburgers too, one of the ways of channelling said jam to your belly!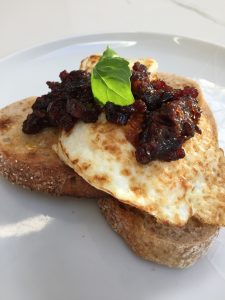 Homemade Bacon Jam
260g pancetta (basically two of the double packs from the supermarket)
1 large onion, diced
2 tsp liquid smoke (if you don't have this you can use the smoked pancetta – it does add a lovely flavour)
2 tblsp dark brown sugar
3 tblsp maple syrup
3 tblsp cider vinegar
3 tblsp strong coffee
water, as needed throughout
In a heavy pot, begin by frying the pancetta until it begins to crisp, remove to a plate lined with kitchen paper. Add the onion and garlic and gently soften until they being to soften.
Add the bacon back in and all the other ingredients except the water. Cook up until the onions are very soft and simmer on a low head for 90 minutes or so, stirring every so often.
Check every 15 minutes or so and add a few tablespoons of water to loosen up the mixture, stirring it in again. It will smell gorgeous!
When it is rendered, glossy and jammy looking, let it cool and then decant into a food processor where you can pulse it a few times – I liked mine with a bit of texture but you can of course make it smoother if you like. Jam will keep in a clean jar for about a week in the fridge.
Homemade Hamburgers (makes 6)
600g mince beef
1 shallot, finely chopped
1 clove garlic, crushed
1 egg
30g breadcrumbs
1 tsp dijon mustard
1 tsp tomato puree
salt and pepper to season
I mix all the ingredients in a large bowl until well combined. Form into patties and chill, covered in the fridge until ready to cook.
Pan fry or grill until cooked through and serve in a bun (toasted or heated if that is your preference) Dill pickles are mandatory in this house, but the choice of toppings are endless.