Kimchi is a fabulously tasty Korean staple made from fermented salted vegetables, usually chinese cabbage. It has hugely grown in popularity since the discovery of the benefits of fermented foods, so that it's very easy to buy a jar (no I will not force you to make your own!) It is traditionally served alongside Korean dishes and rice bowls and in pancakes but now finds its way in lots of  dishes including scrambled eggs, pimping a fried-egg-on-rice, salads, burgers, cheese toasties but here today is my simple version of a kimchi pancake.
100g kimchi, chopped
200g finely chopped/grated vegetables – I used peppers, scallions, courgettes and carrots, sometimes a little coriander
3 tblsp kimchi juice
120g flour
2 eggs
1-2 tsp sesame seeds
Oil for frying the pancakes
First of all get to chopping and grating your vegetables and mix them in a medium sized bowl. I grate the courgette and carrot and finely chop the peppers as grating peppers grates on my sanity quite literally. Chop the kimchi and mix it together with the vegetables.
Now beat the two eggs together with the kimchi juice.
Mix into the vegetables, until combined.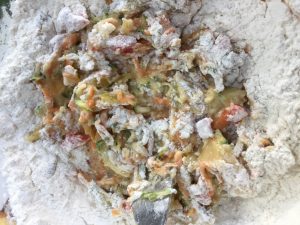 Now add in the flour and mix well.
Heat the oil in a frying pan and spoon mounds of the mix into the hot pan (careful!) they take two to three minutes each side or so to cook through and colour so keep an eye.
This pancake can also be cooked whole in one go and then sliced into wedges – it is more difficult to flip!
Serve with a dipping sauce, something like soy with a dash of rice wine vinegar and sesame oil works well here with some sesame seeds (toasted or otherwise) for good measure