It's December! I can legitimately talk about some Christmas cooking and baking treats now. It's our favourite time of year. The decorations went up yesterday, the lights in the village are being turned on later today and the Late Late Toy Show was on so the season has truly begun. We have a few favourite treats to go with the festive cheer and the first on our list are these little bites. I am a bit of a tart (!) when it comes to brownies having a favourites list of recipes stretching into double digits, but these are very cute and simple. The recipe came from a coworker of my husband's in Toronto. He came home from work years ago raving about these little bites and was sent in with strict instructions not to return without the recipe, so thank you YuYen. She used a saucepan to make them, but I have used a bowl and a microwave with success and I have also used caster sugar here too. I gave them a festive twist with the addition of strawberries and cream, but you can also use buttercream for this too. I do like the fresh cream which works well with the sweetness of the brownies (and goodness knows there's enough sugar floating around so for once I don't mind eschewing it in favour of something a little more low key) The small size means they are a handy finger food dessert too.
Makes 25
170g chocolate (plain, at least 50%)
115g butter, very soft
60ml Chocolate syrup (note I use Hersheys which I have seen in Supervalu and Centra)
1tsp vanilla extract
2 eggs, beaten
75g flour
160g caster sugar
pinch of salt if you have used unsalted butter
To decorate:
25 strawberries, topped and tailed
150-200ml cream, well whipped
Preheat the oven to 175c. Butter and line an 8×8 inch tin. I like to line mine for ease of lifting them out.
Start by melting the chocolate in spurts in the microwave (if you are more comfortable melting in a saucepan, no problem!) I usually do it in bursts of 30 seconds to avoid burning, stirring each time.
Stir in the chocolate syrup, followed by the butter, beating  until well incorporated and smooth.
Now add the eggs and vanilla, mixing well.
Finally the sugar and the flour, mixing well and making sure there are no sneaky pockets of white lurking there.
Pour into the prepared tin, smoothing out and bake in the preheated oven for 30 minutes (checking before the end – mine are usually done around the 28 minute mark)
Allow to cool in the tin. These little guys are much easier to cut if you pop them in the fridge for a while (or even the freezer for five minutes) as you will get a much cleaner line. The picture below is what they will look like when you are in a rush to get to the neighbours but are running late and do not have enough time to do this, not that bad but if you are a perfectionist it may make you twitch ever so slightly.
When cool and just before serving, it's time to decorate.
I use a Ziploc bag (or you can use a piping bag) with the corner snipped to pipe little mounds of cream on each brownie.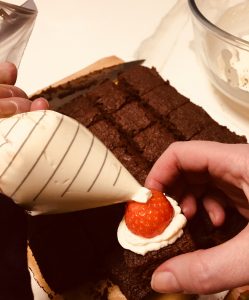 I then top with a strawberry and finish with a splodge  dot of cream.
You can dust with icing sugar too for that extra Christmas effect.