This is a little celebratory breakfast dish for the long weekend as Treacle turns 1! There are a few more steps to this one but I promise it will be worth it. The pancakes are light and fluffy and peaches are one of my favourite fruits if they are ripe (if they are mediocre you can sub them for another fruit or pan fry them briefly) The browned honey butter is fully credited to Deb Perelman and if you haven't tasted it, well you have been missing out in the most major of ways!
Makes around 12
Pancakes:
250g ricotta
4 eggs separated
180ml milk
2 tblsp melted butter
200g flour
1tsp baking powder
25g sugar
1 peach sliced into wedges
Honey butter:
113 g butter
2tblsp honey
flaky sea salt
First make the honey butter. Melt half the butter in a small saucepan, letting it melt, then go nut brown and allowing it to smell nutty and delicious but not burn. It may not win any beauty contests but it will be amazing. Let it cool, not to solid state but it needs to be cool as you're going to add it back in to the other half.  Now take the other half of the butter at room temperature and whip it until it's pale and creamy and then gradually add in the brown butter beating all the time and then add in the honey. Scoop into a small container and top with a little salt and leave in the fridge to chill.
Now the pancakes!
Beat the ricotta, egg yolks, sugar, milk and melted butter in a bowl. In a separate bowl mix the flour and baking powder.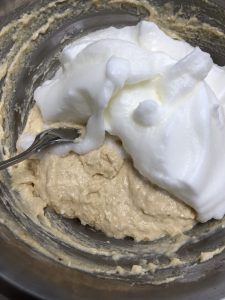 Add the dry ingredients into the ricotta mixture and mix well to combine. Now in a bowl, whisk the egg whites until soft peaks form. Gently fold them into the batter.
Heat a large non stick pan and use a very small bit of oil. I don't cook these over a really high heat – medium/low works better so they don't burn. Spoon the batter into the preheated pan and cook for one to two minutes until firm and fluffy then flip over and cook the other side. Repeat for the rest while you keep the batch warm in the oven.
Pan fry your sliced peaches in smidge of butter if they are not amazing. If they are fab just leave them be.☺
Serve a stack of pancakes with fruit and a pat of honey butter on top and resist the urge not to share with your family! Have a lovely bank holiday weekend!