These are handy little fellas for a weekday arsenal. I make the double batch as listed below and freeze half. Then I can defrost the leftovers and reheat gently in the pan. A handy way to prep them is to make up the meatballs the day before, then hop them off the pan (two minutes literally) in the morning and leave them on all day. The recipe makes about 35 or so meatballs, large walnut sized, serving four. The original recipe is in BBC Good Food magazine, but I have adapted it a little here, in terms of quantity and the addition of dill plus the slow cooker option.
1 small onion chopped
150g breadcrumbs
400g lean pork mince
400g turkey mince
nutmeg, grated
1 tblsp of chopped flatleaf parsley
1 tblsp of chopped fresh dill
2 tblsp plain flour plus extra to dust the meatballs
2 tblsp butter
500ml beef stock (I used a knorr stock pot)
4 tblsp cream
oil for frying the meatballs
Begin by blitzing the pork, turkey, onion, breadcrumbs, herbs, nutmeg and salt and pepper in a food processor. Pulse until combined but not a paste! Roll into small meatballs (I like to do this on a large piece of parchment paper on my counter to minimise the raw meat spatter everywhere)
Dust with flour (if you are prepping in advance, leave the flour until just before you are browning them in the pan so they don't get that weird pasty coating in the fridge)
Heat the oil and brown the meatballs in two batches, it will take only a few seconds in a hot pan – this is mostly all aesthetic plus it locks in a little flavour, otherwise they will look as grey as a Monday afternoon in February and entirely unappetising to eat. The first ones will be coloured up nicely by the time you make your way around the pan. Transfer them directly to your slow cooker pot.
Now melt the butter in the pan, adding the flour when it starts to foam, letting it cook for a minute or two.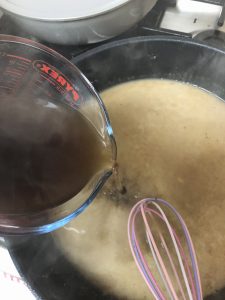 Slowly add the stock, whisking all the time.
Let it bubble for a few minutes until it thickens, then add in the cream and stir.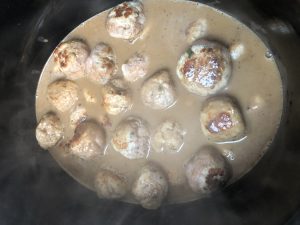 Pour over the meatballs and set to low for six hours.
Serve with mash or pasta or rice is lovely too.