These little beauties came about from an ostensibly long list of ingredients – but bear with me! Most of them are storecupboard and then you really just need a pack of salmon darnes. I'll even wager one of those packs of precooked hotsmoked salmon fillets  wouldn't be the worst to use in a pinch either. The recipe will make about eight to ten  6 – 8cm cakes. The first time I made them we ate them in the small size with a dip and a beer, the second time I made them slightly larger with a salad for dinner. You can exchange the lime for lemon or use a mix of the two.  The recipe would feed approx three adults with sides.
2 salmon darnes (240-250g total)
1 shallot finely diced
a three finger pinch of dried chipotle chilli flakes
fresh basil and dill, finely chopped – a nice handful 😉
2 tblsp chopped capers
50g mayo
1 tsp lime zest
1 tblsp lime juice
2 cloves garlic, minced
1 heaped tsp dijon mustard
1/2 tsp ground cumin
1 tsp smoked paprika
50g panko breadcrumbs and more for coating the cakes
1 egg
salt and pepper to taste
oil for frying
creme fraiche mixed with lime zest and chopped fresh basil to dip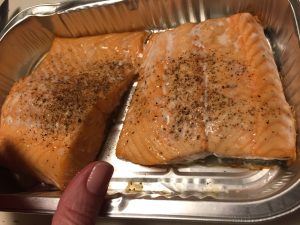 Begin by preheating your oven to 180c and lining a small tin with foil and a slick of oil. Season the darnes and lay them on the foil. Roast in the oven until just cooked, then set aside to cool.
Meanwhile mix the egg, breadcrumbs, capers, garlic, fresh herbs, mayo, lime zest and juice, spices and dijon together with some seasoning in a bowl. Add the cooled salmon in flakes and mix until combined.
Now shape them into cakes, they can be stored covered in the fridge until ready to cook.
When you are ready to cook, heat a few spoon of oil in a large frying pan until medium hot (not mad not or the cakes will scorch) place the remaining panko breadcrumbs on a plate and briefly turn each cake in the crumbs, pressing gently, before adding to the pan – you may have to do this in batches.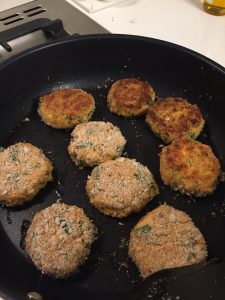 They should take a few minutes each side depending on the thickness – you can press each cake down slightly if you like. Keep them warm in the oven while you cook the rest and then serve with the dip and a cold beer!